A VIP vacation in Dubrovnik with VIPCATION
Inside the walls of King's Landing, Game of Thrones aficionados can dream with their eyes wide open
AUTHOR: Giorgia Di Basilio, original article in Italian available HERE.
Seven nights in a five-star hotel (although the offer also includes the possibility of being accommodated on a yacht), return flight on a private jet from Rome, all transfers made in luxury cars, this is Vipcation: courtesy of the Croatian airline company Jung Sky.
Let me tell you about the amazing experience we had!
My faithful adventure buddy Martina and I have discovered King's Landing as real queens (come to think of it, let's say as VIPs, considering that all the queens in Game of Thrones are dead and I'd rather not jinx myself).
In this article I will tell you all about our adventure, I'll give you great tips on what to do when travelling to Dubrovnik and I'll tell you why you should especially experience it with Vipcation.
A private jet (yes, you got that right, a PRIVATE jet), took us to Croatia sparing us the hassle of queuing at customs and boarding, or the pain of being crammed against other passengers at the gate. It was strange and fascinating to see how the RICH and FAMOUS travel (I realized that I kinda liked it, so I'm ready to become rich now) and it was truly amazing to experience it personally.
I kid you not: we took off from Rome Ciampino without even entering the airport! Instead, we went directly to the General Aviation Terminal which is outside the airport itself.
We were given a warm welcome and they offered us stuff we didn't take because Marti is afraid of flying and she was white as a sheet, she couldn't speak at all, so my reply was a panicking "No, thank you, nothing for us".
We were taken on our Jung Sky jet where we got to meet the pilot who briefed us on the usual procedure before take-off. And then... THE PLANE TOOK OFF to Dubrovnik.
There we were, Marti and I, in this exclusive 6-seat jet just for us, with food, alcohol, soft drinks, fruit platters and then I was like, Marti, you might have your flight anxiety, but I'm starving! Also, where are our manners, I'll eat for the both of us, I guess I'll make that sacrifice. I spent an hour gazing out the window, drinking and eating like a pi... ok, no, like a Beyonce, let's put it that way.
The flight was nice and calm. Don't let the "reduced size" of the private jet frighten you because it is as safe as any other commercial aircraft we usually take.
Even Martina, someone who's more afraid of flying than of anything else in the world, agreed with me and told me that if she must fly, SHE WANTS IT TO BE ON A PRIVATE JET (call her crazy if you dare).
As soon as we landed in Dubrovnik, our pilot escorted us to a luxury car waiting to take us to our hotel, also a part of the Vipcation experience.
We finally arrived to the resort chosen for us by Vipcation, the Importanne Hotels & Resort and our accommodation for the next 7 days was the Ariston Hotel. Our dream vacation in Dubrovnik HAS OFFICIALLY STARTED!
The Importanne Resort includes four hotels, nine pools (among them a GORGEOUS infinity pool without which I can no longer imagine living in my own home so I am seriously considering of building one on my bedroom balcony), three beaches, heaps of restaurants and wellness services, all adjacent to a pine forest.
Reaching the Old Town was very simple, a 10-minute taxi drive (alternatively, you can take an Uber for half the price).
Ok, so this is a VIPCATION. To recap: a return Rome-Dubrovnik flight on a private jet, a luxury car airport transfer and 7 nights in an amazing 5-star hotel.
Now, it's time to talk about Dubrovnik!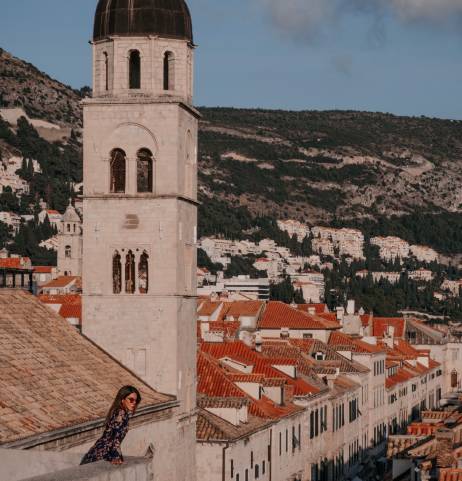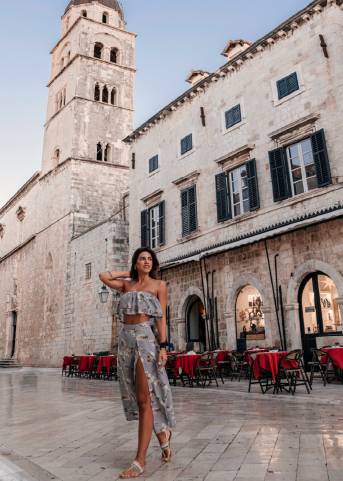 WHAT TO DO IN DUBROVNIK?
Stay in the hotel's infinity pool and drink mojitos. The end.
Bye everyone and thanks for reading, till next time!
Just kidding, but leaving the pool was tough, reeeeeeeal tough. I'll try to be less of my usual chatterbox and more to the point instead. Here we go.
Take a walk on the walls
… which open at 8:00 and close at 18:00, so DON'T BE LIKE MARTI AND ME WHO WENT TO SEE the sunrise from the top of the walls. Nope. Closed. At that time of day, you'll instead see delivery vans and garbage collectors, naturally.
Furthermore: since the early morning (till 16:00), cruise ships sail into the port of Dubrovnik, and that makes the Old Town fill up with tourists.
We preferred to walk the walls around 16:30.
The ticket entrance is 27 euros. Quite pricey, but Game of Thrones has also brought a significant rise in the prices since the city is small, word has spread fast and it has brought many fans to explore King's Landing; consequently, Dubrovnik became very expensive, especially when it comes to tourist attractions.
Cable Car and watching the sunset from above
Again, we're on the expensive side: for 2 minutes of cable car ride up the hill and 2 minutes to descend admiring the sight of Dubrovnik from the top of Mount Srđ we paid around 20 euros.
The view from above is breath-taking: beneath you, the walls of the Old Town with its characteristic red-tiled rooftops overlooking the sea, and on the other side you have Montenegrian mountains and, framing the scene, an incredible sunset sky changing its colours every minute.
You can also have a cocktail at the panoramic bar on top of the hill while waiting for the sun to set.
See the Franciscan Church and Monastery
You will find it as soon as you enter the Old Town. The complex consists of a church, a well-equipped library and the oldest pharmacy in Dubrovnik.
The island of Lokrum
... which we haven't seen since we couldn't bring ourselves to leave our gorgeous hotel. We didn't feel the need to go.
The island has pure, unsullied nature (with nudist areas as well), and it is easily reachable by ferries leaving the old harbour every 30 minutes.
A stroll in the Old Town
Absolutely gorgeous. I really loved the Old Town, both from the height of the city walls, as well as while walking through the narrow alleys of the town. There are a ton of GoT souvenir shops ("look at this beautiful Game of Thrones cup, I better buy it... ah 100 euros, just kidding, turns out I don't really need it"), as well as restaurants, fashion boutiques, ice cream parlours etc.
SHAME, SHAME, SHAME!
Game of Thrones fans, COME TO ME! Yes, you have understood perfectly what I am referring to, that's right, that's it: the famous steps where Cersei did her Walk of Shame, perfectly recognisable.
Tourists get offered many thematic Game of Thrones tours to experience Dubrovnik as it was represented in the famous TV series.
Lovrijenac Fortress is… THE RED KEEP
The Red Keep is the castle and residence of the king of the Seven Kingdoms in Game of Thrones, it is majestic and overlooks the sea.
Legend has it that it was built in only three months with some help from volunteers of the old Republic of Ragusa who fought to protect the city from the Venetians.
Kayak tour
To be put on your to-do list if your travel companion is not the laziest person in the world that will reply: "You go ahead, I would rather jump off a cliff". I was travelling with Marti, no further explanation needed. In any case, many people have advised us to do a kayak tour.
Visit the Cathedral of the Assumption of the Virgin Mary
Easily reachable since it is located in the heart of the Old Town, this Baroque-style church was originally built in a completely different style; it had to be reconstructed after almost being razed to the ground by the severe earthquake that had hit the city in the XVII century.
Legend has it (in case you haven't noticed, I absolutely adore legends!) that it was rebuilt partly thanks to the donations offered by King Richard the Lion Heart as a votive for having survived a shipwreck near the island of Lokrum on his return from the Third Crusade.
We've read online that one of the most beautiful beaches in Dubrovnik is Copacabana Beach.
Located at a 15-minute distance on foot from our beautiful hotel, we went there… only to be slightly disappointed. A platform made of concrete with a tiny bit of actual beach, expensive sunbeds and gazebos - plus a not very friendly staff.
Instead, the beaches of the resort that Vipcation chose for us were significantly better, so after a short stroll (the gazebos were too cute, I had to take some pics to show you), we looked at each other and we went back "home". It's easy to get used to such a VIP treatment, we might have gotten too used to it.
A week in this city has flown by. I got super relaxed and I enjoyed so much my walks in the Old Town at any time of day.
Vipcation has given us this deluxe vacation and it was a dream come true that I'll cherish forever among my most precious memories.
In conclusion…
Did I convince you to go already? In case you want to take a VIP vacation at an affordable price, visit the website Vipcation.eu and take a peek at the offers. It's not just a trip; it's the experience of a lifetime.
We all love planning our summer vacations and we cannot wait until we are far away from our daily routine and the stress we experience every day, but sometimes the travel itself towards that much awaited destination is also stressful and physically demanding. That is not the case with Vipcation. Relaxing of the mind (and body!) begins right away.
If my words and photos don't suffice and if you're hungry for more, watch the videos I posted on my Instagram profile @giorgiadibasilio (also, clicking on the follow button won't make your fingers fall off so, by all means, feel free to do it). You just need to find "Croatia" among the stories in evidence and you'll be able to see breath-taking sunsets, the emotion we experienced while taking off in a private jet, the improbable-looking pizza I ate and the infinity pool that captured our hearts forever.
Cheers
Love,
Giorgia Di Basilio.